As a music producer, I love introducing riders to new music as well as injecting fresh life into familiar themes that may have been used many times in competition.
Innovative methods I use include: extracting one element or theme and 'remixing' it, adjusting the tempo (within reason) to offer greater music choices, seamlessly blending two or more elements (for example – adding contemporary drum beats to a classical theme) plus many more innovative ideas. I aim to create unique and exciting dressage soundtracks tailored exclusively to you and your horse.
The most successful and effective routines happen when the horse's hooves connect with the rhythm of the music. With my background, including scoring music for TV, musical theatre and video, I instinctively connect 'sound and vision'. My aim is to create the perfect soundtrack to your dressage routine.
My starting point is determining the unique gait tempos of your horse. Once I know the beats per minute (BPM) of your horse's walk, trot and canter, only then can music selection begin. I discuss with the rider about musical tastes and themes. It's crucial that the mood and style of the music represents the personality of both horse and rider as well ticking the boxes on the test sheet.
Throughout the process, I regularly feedback and consult with the rider to ensure we're sharing the same vision. Once a rough mix ready, I send it to you, you go and ride it. I'll make timing/tempo/musical adjustments based on your feedback. It normally takes about 3 mixes before the music is perfected, and the turnaround time is approximately 7 days. I work closely with renowned dressage trainer Robbie Carpenter, who initially asked me if I would create dressage to music routines for some of his clients. This has instilled in me the key elements of a successful musical dressage soundtrack – a theatrical synergy between the music, the horse and the rider.
I have recently worked with international dressage champion, Emile Faurie, on 2 successful music routines (Horse of the Year Show & Olympia Horse Show). Grand Prix routines demand the highest level of attention to detail to ensure the music enhances the vast numbers disciplines and changes. The Olympia Horse Show routine was shown live on BBC2 and received high music scores from the panel of judges and a great reaction from the 10,000 strong Olympia crowd.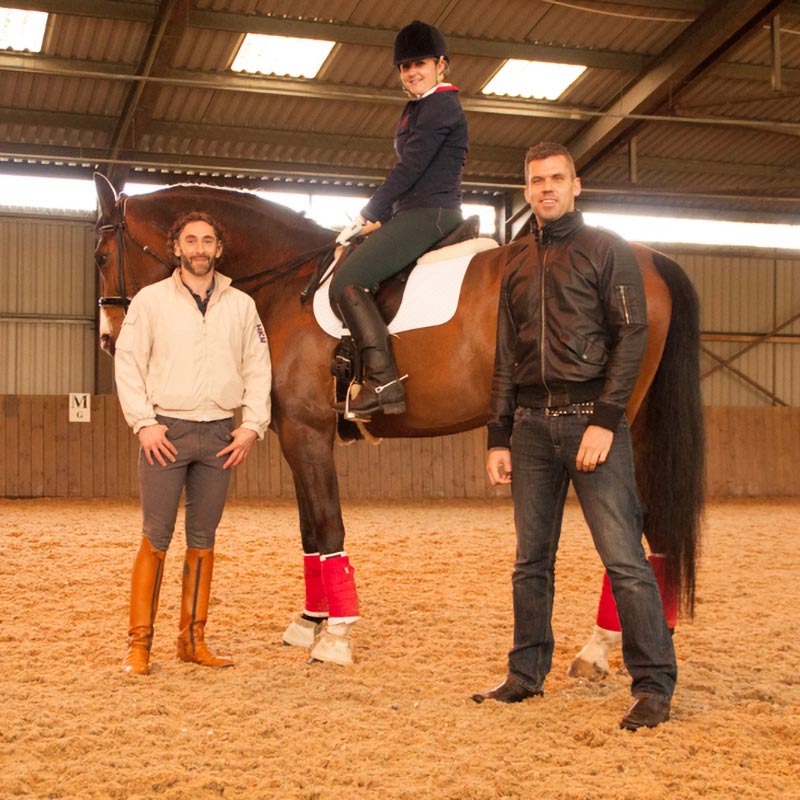 High marks
"Nick has proved over and over again that he produces professional, polished and amazing music for dressage. He has a great understanding of Dressage and the requirements needed for a winning music test. Musically, outstandingly talented yet approachable and dedicated to providing a superb service.

Every single one of my clients that have used Nick to produce their music has been awarded with an outstandingly high mark for the music mark and suitability. Many clients have gone on to qualify and win their competitions. Dressage to Music has gone up a few gears thanks to Nick!"
Robbie Carpenter international dressage trainer
My clients say
I've had some great reactions for my dressage music
"A great ear for rhythm and a vast knowledge"
This was my first attempt at dressage to music, I knew I would need someone whose passion is music, to find the right pieces for me and my horse. Nick has been that person. He has a great ear for rhythm and a vast knowledge of various genres of music. I soon had 3 tunes that fitted my horse well. The music transitions are seamless, and there are good markers in the music to know when the transitions are coming up. Nick had a short deadline to meet initially, which he reached easily, and was really helpful with any changes I needed doing. I have done 3 tests so far, and have won 2 of them! Scoring 9.5 for the music in one of them!
I hope to revamp my test to move up to med level soon, and I will definitely use Nick for the music.
Tessa (& Titan)
"The most amazing music for me and my horse"
Nick has been an absolute treasure not only to work with, putting together the most amazing music for me and my horse. It is truly a gift to be able to look at a horse and rider and get the music to fit perfectly, Nick has this in abundance. Not only is he patient and talented, he really understands that the music must fit the horse but also has to be liked by the rider.
He is amazingly quick with getting the music to you and any changes are done straight away. I'm afraid that he will be plagued by us riders for a long, long time thank goodness. Nick you are brilliant.
Penny (& Matty)
"Very many thanks for achieving the impossible"
I have ridden and competed most of my life on horses and was in dire need of music for dressage which would also involve a costume and also suited a pony from the Isle of Rum. Other catch was, although I love music, I have fairly conservative tastes! So a fair challenge for Nick to fill all boxes.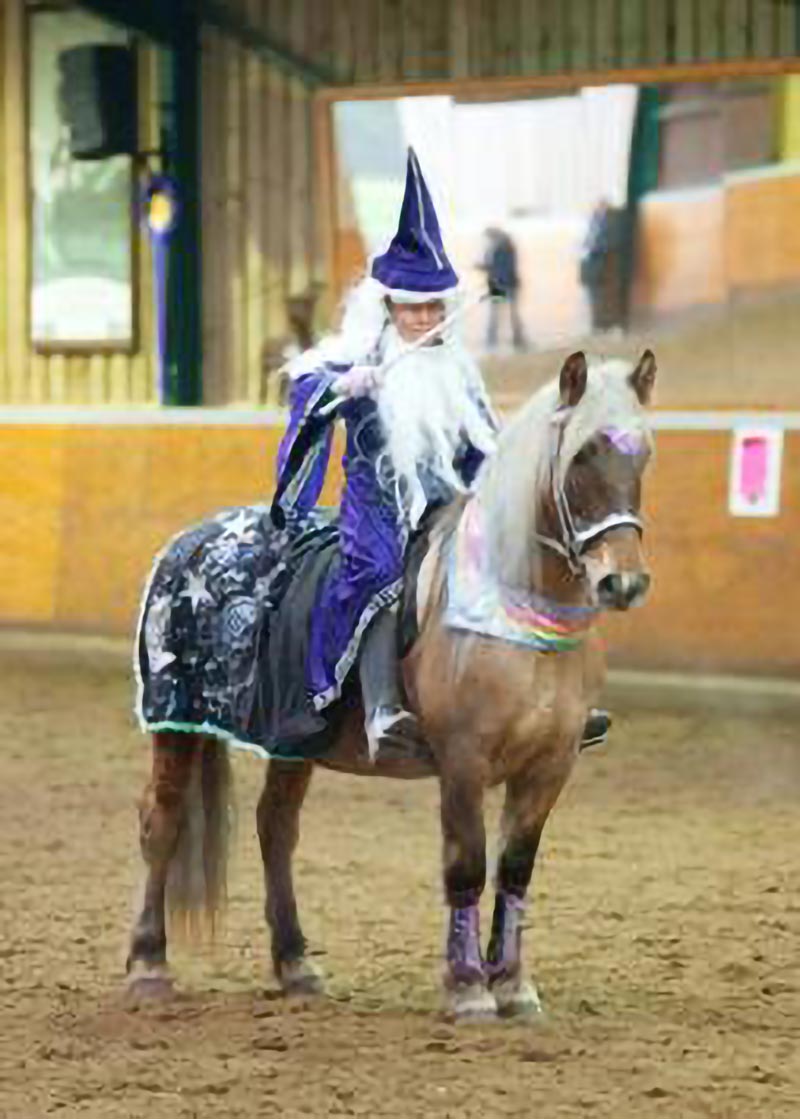 The result was Magical, a great mix from the world of witches and wizards. This incorporates classical to modern vocal music leaving no one in any doubt of the theme, tempo to fit the pony's paces and a chance to be theatrical – what more could one ask for? Even more important was introducing fun to a serious subject, a shock for people who know me as normally serious and using traditional Scottish music for my Highland ponies. So very many thanks Nick for achieving the impossible.
Dierdre (& Summer)
"I've just ridden to your music... and I love it!"
I've just ridden to your music… and I love it! For me it really worked well with my horse's paces, thanks!… Also would you be interested in doing music for my other haflinger? Now that's some endorsement!
Petra (& Freddie)
"Not only exciting, but lots of fun too"
I was introduced to Nick through Robbie Carpenter and I'm so glad! Nick made my first experience of dressage to music not only exciting, but lots of fun too, which is what it should be about! Nick was easy to work with, I'm not a very music orientated person and have a limited knowledge, but he had amazing ideas, all of which I really liked. From providing my filmed routine to Nick, I had the first draft within a matter of days and the finished article after only a few minor adjustments, within a week, I was amazed and so pleased!
To date, I have only used my music twice, but have had such lovely feedback and got placed 2nd at both outings! I have received 8 and 8.5 for my music in these competitions at both Riding Club level and British Dressage. I plan to continue using it throughout the winter to hopefully qualify for the Regional Championships. I would happily use Nick Reeve Music for my next routine, when I plan to move up to Medium.
I absolutely love my music… I would definitely use your services again and recommend you! Thanks Nick!
Liz (and Salsa)