Some of the reactions I've had playing bars, weddings, parties and functions as Pianoman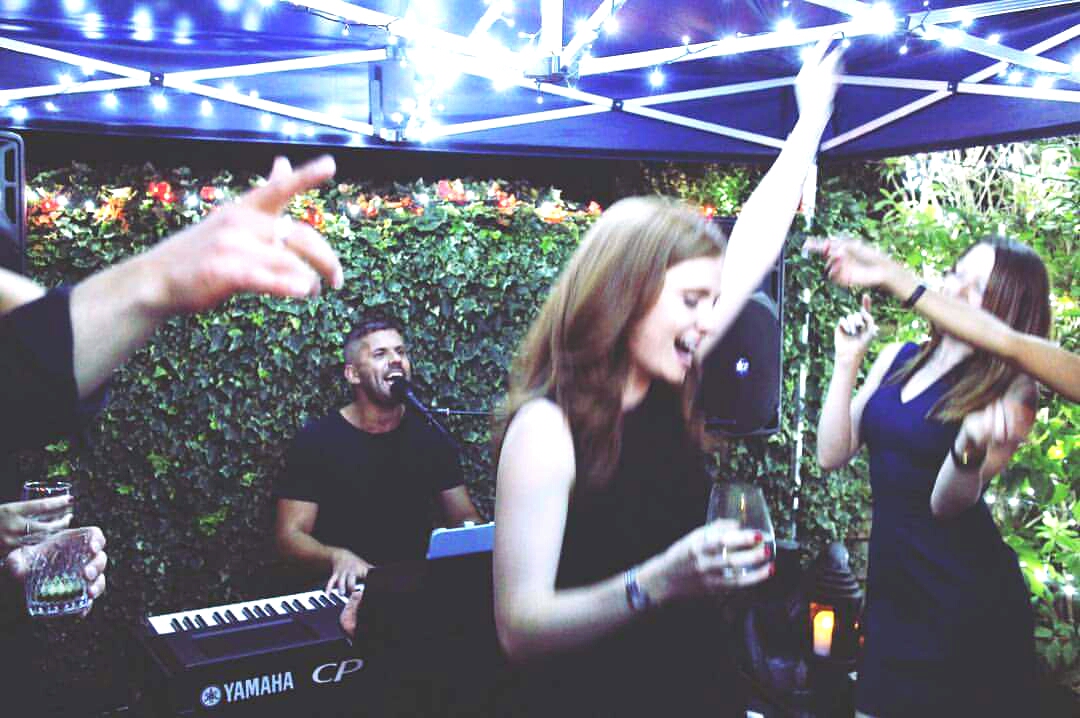 "Thank you Nick for such a wonderful evening!"
Rach
"You were absolutely amazing"
Neil

"THANK YOU so much for your patience on our wedding day and your flawless performance. You were, as ever, the talk of the wedding afterwards! Your version of Home was deemed by those who commented to be 'better than the original'. You made our day, thank you so much."
Elspeth (and Hugo)

"You are a consummate professional! Having you play at the ceremony absolutely made it for me. Hearing your voice as I entered the House made my heart lift so I extend all my gratitude to you. Your choice of song for the exit was inspired!
Then came the evening, what you did play was superb and really got people started and in the mood for dancing! It meant a lot to me having you there as I know you a little bit and you are such a lovely guy and I know you care so much about what you do and that makes it even more special."
Jo and Geoff

"Thank you so much for everything again Nick! You made our Sunday and our guests! Would not have been the same without you. Thank you again!"
Mr and Mrs Murphy!

"Thank you for your amazing talent on the evening of our wedding, we and all of our guests thoroughly enjoyed your work and will treasure the memories and videos (especially of out first dance) forever.
Best of luck for the future and be reassured we will be recommending you to friends & family in the future."
Pat & Sarah

"Thank you for the most amazing entertainment on Saturday at our wedding reception. If I hadn't been a pregnant bride with sore feet, I would have been on the dance floor constantly!!
Everyone was so impressed, and all age groups. I will definitely recommend you to everyone."
Catriona

"It was such a privilege to have you come and play for us – you were absolutely blindingly good and so many people were bowled over by your range and talent."
Jonathan

"Hi Nick – Just an e mail to thank you for providing the great music for our wedding, we loved it! Our guests commented on how great your voice was!"
Sarah & Chris

"I just wanted to drop you a quick note to say a big thank you for playing at our Wedding. We had so many people come up to us on the day and say to us since that you really made the night and we could not agree more. Your ability to get everyone dancing and to play everyone's request was amazing and we really appreciate you helping to make our day so special."
Matt and Katy

"Nick performed at our wedding in Bristol and was absolutely incredible! He kept the dance floor packed and there really was something for everyone. He was also a pleasure to liaise with – super-organised and accommodating, he couldn't have made things easier. Thanks again!"
Hannah & Jeff

"Now that we are back from honeymoon and firmly back to reality, we wanted to say a MASSIVE thank you for your fantastic performance at our wedding. Everyone was in love with you and the music! Thank you so so much."
Shima & Paul

"Hi Nick
I just wanted to get in touch to say a huge thank you for playing at our wedding. You were everything we hoped for, and everyone thought that you were fantastic, and that included several musicians! Well done for dealing with a noisy and enthusiastic crowd so well too 🙂
And thank you for all your work sourcing and organising the piano. It was certainly worth it as it looked and sounded amazing. You provided the perfect evening's entertainment."
Chloe & Tom

"Thanks so much you were an absolute legend on the night and we had such a great weekend many thanks to you."
Bex and Sam
"Nick!!! OMG. You really had the killer set and the party was absolutely electric because of it"
Josh and Jess
"Just wanted to say a huge thanks for Saturday!!!! The music was amazing!!!"
KR Charl
Pop divas themed hen party…
"Nick Reeve is phenomenal. Just phenomenal. I think he may actually be my hero. He travelled all the way to a remote corner of Devon – to a beautiful little spot called Bantham – to a big field looking out over the sea. We'd hired in a fabulous grand piano to our big marquee, and as soon as Nick sat down to play after dinner, the magic truly began. He played our first dance – and then played solidly until long after midnight – (really hope someone was giving you drinks, Nick!!)."
"His repertoire is truly extensive, and our dance floor was packed from start to finish with very happy (and merry!) guests busting out some of their very best moves to an eclectic mix of Elton John, Billy Joel, Britney Spears, Glee… and so so so much more…
Every single one of our guests were blown away by his skills… and Nick's name has come up in conversation so very many times since then from all those who celebrated on that very happy cider-filled day in a big sunny field.
Rob and I can only say the biggest thank you for making our very special day just so so so much more special."
Esther and Rob xx

New Year's Eve at the London Hippodrime Casino
Good Job I know 'Empire State of Mind'….
West London gig
Beautiful boutique London wedding
"Your performance at Piano yesterday was spellbinding"
Al
"Best live music I've ever heard @ Piano Bar, High Street Ken!!!!"
Sandy
@nickreevemusic
entertaining the crowds at
@pianokensington
#yourejusttoogoodtobetrue
@HenniBW
"You played a great wedding tribute for us on Saturday at Piano Kensington. Thanks! It's become one of our brilliant memories together! You were excellent, would be like to play at our wedding?"
Matt and Sasha
"You exceeded all our expectations…Thank you again for helping to make our day so special. You've got rave reviews from all the guests"
Adam (and Kate – Wedding in Spain)
"Just wanted to say a big thank you for being so brilliant on Friday – great stuff!"
Felicia and Ed xx (Wedding in West London)
"My friends are all saying what a great time they had. So thank you. We'll definitely be back to see you again!"
Kristie
"Girly catch up over a couple of cosmos at @pianokensington with @nickreevemusic playing good tunes on the piano.."
Tatiana
"Loving @NickReeveMusic …great Wednesday out."
Amy
"@NickReeveMusic @pianokensington great night – looking forward to coming back."
Gareth
"@NickReeveMusic Loving your voice and style right here"
Michelle
"THANK YOU so much for Saturday night!! I had so much fun, and everyone said how great you were!! I'll be recommending you to anyone and everyone."
Natalie (private party)
"Thank you for such an amazing performance at our wedding on Saturday. The music was fantastic and everyone commented on what a great musician you were. You very much helped make a party atmosphere and our guests really enjoyed themselves."
Michael and Tamsin (wedding)
"Nick performed at our wedding and he was superb – everybody (young or old) loved him. He was so flexible about song choices which allowed us to make it really personal – thanks Nick!"
Christina and Jon
"All (guests) at our BBQ thought (your performance) was excellent"
Renata Jones, Lead Generation Manager, Safe Computing (Company Summer Party)
"Nick's a talented piano player and singer with a wide repertoire of pieces who entertains a crowd brilliantly by catering for lots of different tastes and responding to requests. He's also very charming and his performance made my leaving do very jolly!"
Alison
"Nick is an all round star. He has played at two events for me and I have several friends who have invited Nick to play at their Christmas parties. First and foremost he is a nice chap with an incredible talent. For my wedding he learnt a new song for the first dance and kept 150 people dancing for 3 hours. I love Nick's work and I am hoping that he will play at more of my parties in the future."
Jacintha and Christian
"We have used Nick at one of the weddings that we arranged for clients in Southern Italy. He did a fabulous performance which really impressed all of the guests and added to the uniqueness and memory of a wonderful wedding celebration in Italy."
Emma Wood – Luna Rosa Wedding Planners
"Thank You for a Fabulous night last night, we all had a brilliant night and so many people thought you were fantastic."
Steph
"Thank you very much for a great party… for bringing the music and the party spirit!"
Hanadi
"Thank you, again, for the fab music you provided for my birthday party. I hope you had fun, I know everyone else did. Although I wish it hadn't flown past, and I could remember more!"
Cat
"I'm not sure if you remember this but you gave me your card back in May when I came to the Piano Bar for a friend's birthday. We had a great evening listening to you play and have been meaning to come back ever since. My fiancée and I are getting married next year and would really love you to play at the reception"
Tamara
"Wanted to say how incredibly grateful we are for you agreeing to perform at the wedding, it was incredible. We have had so many comments from our guests about your performance, it was excellent. So much fun."
Stuart
"Just wanted to email to thank you for doing such a superb job for us. We loved it and the guests thought you were brilliant."
Alison and Tim
"We had an amazing time at the wedding and we loved your performance it was exactly what we had hoped for and more, we've met up with a lot of people since we have been back and they have all been talking about the music"
Justin and Sarah
"Nick. Awesome. Thank you"
Tom
"The evening did have a fantastic atmosphere – relaxed and incredibly fun. Just what you need at a wedding. The mash-up of Wonderwall and American Pie to close off proceedings was a particular high-point!"
Paul and Claire